The Excruciating Climb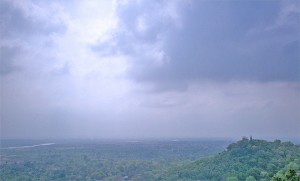 A couple of Sundays ago, my relatives and I went to Mt. Oudong, Cambodia's former capital. The mountain is actually just a small stump of earth, an elevation as high as Musuan Peak (in Bukidnon, Philippines). Or so. Maybe higher. On top of it is a temple which can only be reached by climbing about less-than-a-thousand steps up. Of course, once you get there you'd just want to slump your exhausted body anywhere where there's shade, and maybe take a swig of whatever fluids you were fortunate enough to carry with you, and then start wishing you stayed at home instead content with the uneventful day in front of the electric fan blowing #3 in that noon day heat.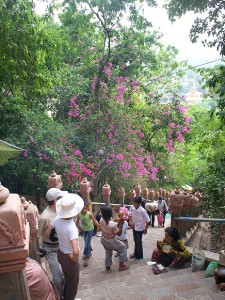 But it wasn't all that bad. Even though it was an intensely hot day, and my heart raced like crazy, and I got myself saying, "Oh, God! Oh, God!" for lack of anything else coherent to say to ease my physical struggles by some divine intervention, but no matter how much I struggled within, it was quite a walk (or climb) and worth the climb just to say, "Oh yeah, I've been there, done that,… thank God!"
So yeah, I've been there, done that! Thank the Almighty GOD!
Right, so the pictures below are just a couple of things I saw on our way to the top. It was incredibly amusing to learn (with a degree of shock value) that beggary can take on a different form. A different life form, that is.