The Bird-caged Bat
I have taken the liberty of calling my new pet, a young fruit bat (probably), Lugosi.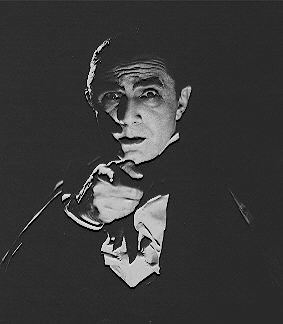 I named him after a 1930's actor, Bela Lugosi, who popularized the generic Dracula look in the silverscreen. Well, Lugosi's doing absolutely fine now. Although he still trembles from time to time upon seeing us, but he's not as frightened as he was of us before. I could now see what the guard meant when he said that the bat couldn't fly. Lugosi had lost the use of his left hand or claw (the one that sticks out of bat's wings), or had probably fractured it. He only makes good use of his 3 other good 'claws'. Which is great! He's not totally disabled then.
I'm glad that almost everybody in the house (except my relatives) has shown a soft spot for Lugosi. And I'm referring to all the guards on duty and the house cleaner. They feed him (although at the wrong hours sometimes) and they seemed amused to have him. So it's like a win-win situation: He needs us, we love him.
Anyway, a relative of Lugosi has been checking on him from time to time by dusk. He/she flies overhead us, hopefully not contemplating biting a bit of our heads off, and by Lugosi's cage. How filial! I wish they could talk. Then we'll be able to make some arrangements to Lugosi's welfare, hahaha!
****
I withdrew money at my new bank's ATM earlier. I find it quite interesting that while I was withdrawing money, there's a fire going on at a building just right next to it. The front was being swarmed by spectators, building inhabitants, the police and the fire fighters. Well, I did not exactly see any flames consuming the building so I wasn't as concerned and just remained calm and uninterrupted to the panic scene that was there.
*****
The mototaxi driver, after dropping me off my destination, looked at me a bit and asked me: "Are you Korea?"
"Me? Korean? No. How much is the fare again?"
"Are you Japan?"
"No. Did I just give you 1,500 riels?"
"Are you…"
I left.
That was a nice change though from the usual statement, "You look Cambodian", which now have presented me a difficulty responding to and had taught me to resort to a friendly smile that wears off in three seconds. There was an instance though, a very rare instance, when the President of our community's university asked me over dinner: "Are you American-Cambodian?"
Well, what's next? Am I Russian-Cambodian? Cambodian-Arabian? Cambodian-Estonian? Greek-Filipino? Italian-Bisaya?