On the Rocks
We're back from our beach holiday and what a real bummer it was to get back into the real world. I haven't had this much fun and independence for as long as I can remember! I actually feel like an adult. Consider it my long-delayed initiation to adulthood.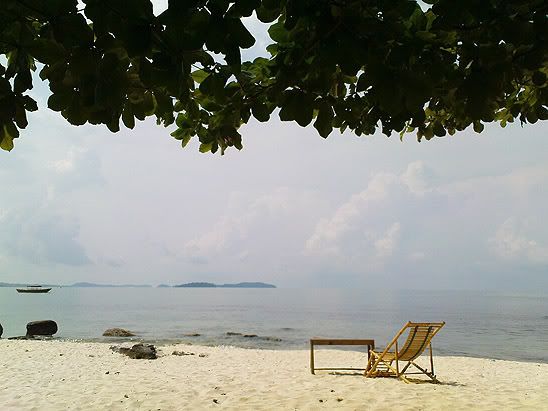 Christina and I spent the last four days of the Cambodian New Year at Sihanoukville (formerly known as Kampong Som). Early in the trip we had plans to see the islands and was to book a boat to see the National Park in the next few days, but after finding ourselves standing right in front of the sea, we've decided that that's exactly where we really wanted to be.
***
***
THE ROMANTIC VERSION:
We took a bus early in the morning for a 4~5-hour long trip to Sihanoukville. Upon arrival we were taken by two separate motodops to GST. The rooms were "ugly", in Christina's words. I can trace the disappointment in her face upon watching her seeing the room, but I encouraged her that at least the room was within our budgets of $7/night (which we were to split between ourselves).
So off to the beach of Ochheuteal we went after leaving our bags in the room. We had lunch at the sea side and a good, long walk under the scorching heat. As we were nearing the rocky portion of the Serendipity beach, we found a secluded guesthouse called Tranquillity. It was indeed tranquil. There weren't any crowds, just a few foreigners sun-bathing. It was quiet, with only the the waves to break the peace. There were 2 large, cushioned chairs beneath a mango tree 20 strides from the beach, and the view was fantastic!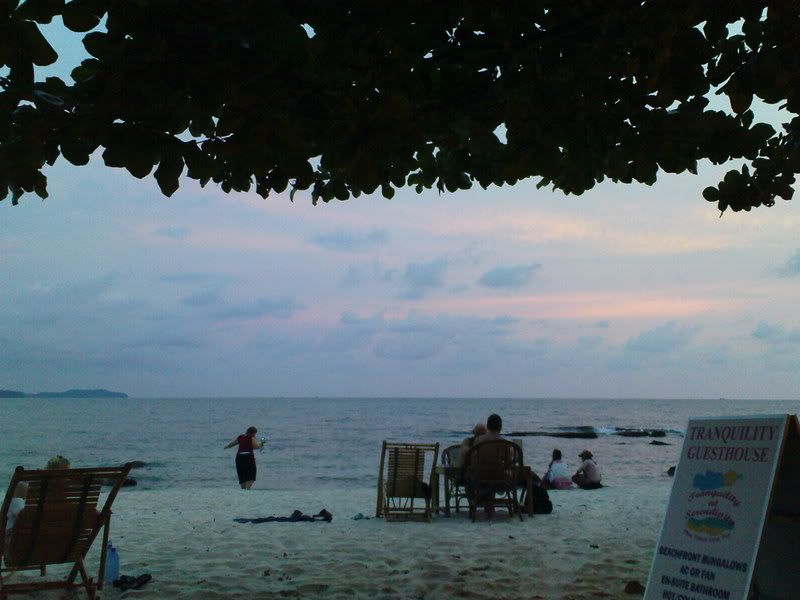 We've agreed to check-out at our 'ugly' guesthouse and check-in in this wonderfully-located inn worth $15/night. Immediately after putting our stuff in, we occupied those two large chairs under the mango tree and literally stayed there, chillin', for the next 3 days.
Uneventful? Yeah, maybe. But restful? Relaxing? ABSOLUUUUUTELY!
***
***
THE REALISTIC VERSION:
After spending three days beach-bummin' at Tranquillity (and walking along the shores every night), we've finally decided to take a dip. Finally! We donned our swim wear (and my first bikini) and good grief! The beach was dirty! Well, not that dirty as I make it sound but you can see plastic bags, plastic cups, wrappers and coconut shells floating in the water (and no one seems to care to clean it up). Most of the rubbish were on the sandy shores though. Cambodians have the habit of throwing their trash just about anywhere, like some irresponsible kababayans of ours. Well, Christina began itching. So did I. But we paid it no heed, except when I began to think of Davao's beaches which are by far cleaner. I'm proud of our country's shores.
But it was all right. We still had an amazing time!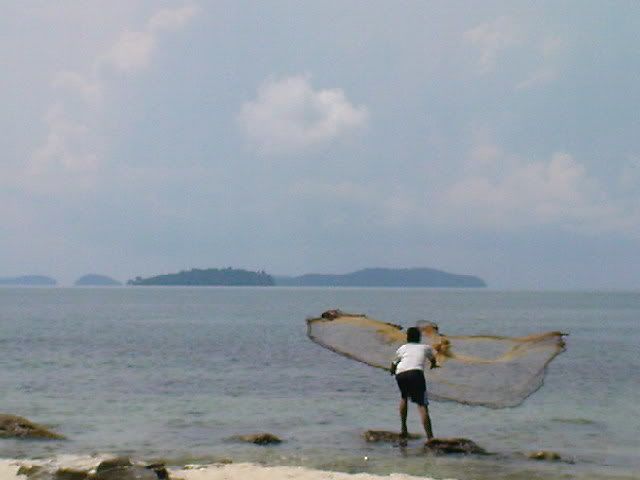 So anyway, on the 3rd day we hit the beach in the morning. By afternoon, before dusk, we went rock climbing. Now before you start thinking we did some cliffhanger stuff, we literally climbed boulders/huge rocks (that covered the shores from our guesthouse), in order not to get wet by the rising tide. It was a fantasitic experience! It was the most work-out we've had in 3 days.
Well, because we've spent 3 days lounging, chillin', reading a book and napping beneath the shade of the mango tree for hours on end, it was hilarious when we finally received our bill (which not only contains the room rent, but also all the beverages and meals and snacks we ordered while literally monopolizing these two large, cushioned seats in that mango shade). Our bill, put together, amounted to $87!!!
Actually, it's not really that bad. It was still well below [my] expected expenses. Still, it was a laugh to see the bill: Cheesecakes, coconut shakes, chocolate shakes, burgers, fries, Cola, cheesecake again, big Khmer meals, big Western meals, cheesecake,… we surely threw our budget-plans out in the open sea!