Roaring Earphones
Don't worry, I'm not the sort who sets their MP3 players full blast. But my earphones do roar when I listen to… ROCK MUUUSSSSIIIIC!!!
RED HOT CHILI PEPPERS

Genre: Alternative Rock, Funk Rock
They sound pretty cool, somewhat mellow to my ears, and at times 80's-90's hip. I have a particulary liking for the song, "Under the Bridge" which was revised by an all-girl group in the 90's called All Saints. Some of the other songs I liked are Californication, Otherside, Scar Tissue, and By The Way.
PLAIN WHITE T's

Genre: Pop punk, Pop Rock, Indie Rock
It's not easy for me to describe Plain White T's music. It's somewhat pop-rock, somewhat pop-punk and then folk rock… a bit of this and that, really. Listen to their songs Big Bad World, Natural Disaster, That Girl, I Really Want You, Last Call, and of course, 1,2,3,4 which I first saw on Channel V. It is my favorite song in their album, and the video, I thought, was really heart-warming. It's a really good song.
THE FRAY

Genre: Alternative Rock?
We are all probably familiar with their hit, "How to Save a Life" which had been featured in Grey's Anatomy. If not, then you're probably more familiar with "Over My Head (Cable Car)." Well, they do have a few other interesting songs such as, Absolute and Never Say Never. Honestly, I find them quite EMO for my tastes so, I can't really stand to listen to them for long. 🙂
SMASHING PUMPKINS

Genre: Alternative Rock
Another band of a vegetable (next to Red Hot Chili Peppers, I mean). This band sounds a bit like MUSE slash something else except, I didn't quite like the voice of the vocalist. He sounded like Alice Cooper. Not that I don't like Alice Cooper, because I do, but… well… I just found it weird that here's a MUSE-sounding band with Alice Cooper as vocalist. Sorry, it just really sounded weird to me. So far, I have only like one song of theirs, which is called The Rose March.
NIRVANA

Genre: Grunge, Alternative Rock
I am quite familiar with Kurt Cobain. I was still in my early teens when I've read about his death on Newsweek or Time magazine. Everybody seemed to be mourning for this unheard of guy, a rockstar, who committed suicide at the age I'm now. 🙂 Well, a decade and a half later, here I am listening to his music for the first time. Now I know the song, Smells Like Teen Spirit. I really am well behind the times in the rockin' world. Anyway, so I find myself listening to Nirvana's music now and then, especially when I'm on my way to school on a Moto.
THE CALLING

Genre: Post grunge, Alternative Rock
I miss them. I miss pretty blonde boy Alex. Where are they? Alex Band, the vocalist, has the most prominent rocker voice evah! I love to hear him sing! Their songs Wherever You Will Go and Could It Be Any Harder are the popular ones. One by One, Our Lives, Chasing the Sun, and Surrender are also a few of their pretty good songs.
METALLICA

Genre: Heavy Metal, Hard Rock
Who would've thought that after a decade of so, I would be listening to Metallica?? Marichu, a friend and classmate of mine in college introduced them to me. Well, technically it was Sam R. who did when he recommended the song Unforgiven to me (or was it Nothing Else Matters, I forgot), giving me piano sheet of the song back in High School. Anyway, when I listened to the tape Marichu lent me, they literally gave me a headache. I wasn't ready for hard rock then. I was very much a Classical girl at that time. So right then and there I decided that I didn't like heavy metal. But now… lookie here! I actually like The Unforgiven and Nothing Else Matters.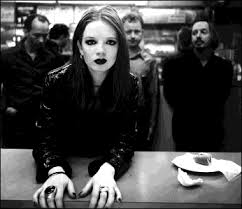 GARBAGE

Genre: Post Grunge, Alternative Rock
I've been a Garbage fan since last year I really like their sound. I can listen to any of their songs for a long time without tiring. Only Happy When it Rains, I Think I'm Paranoid, When I Grow Up, Bleed Like Me, and Why Do You Love Me. They're a pretty rockin' smokin' band!
****
I'm now somewhat alone in this bar, except for a couple or so guys behind me (one of whom is probably the owner of this bar) and they are talking about rock music (or, I now realize, organizing their playlist). How nice is that? They were exchanging names of great bands, a bunch of which are unfamiliar to me, and then I caught one of them saying something about Journey — and he said it's "cheesy." I stifled a laugh after hearing that. Wow. Journey? Cheesy? Okaaayyyy… . Dunno how Journey fans feel about that. haha!