Stuff Worth Posting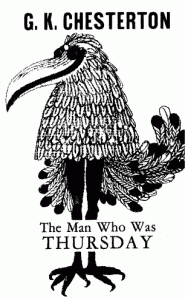 As for books, I am re-reading G.K. Chesterton's "The Man Who Was Thursday: A Nightmare
" which still proves itself to be a classic keeper! My dad has heard about him and the book back in his school boy days, and it baffles why I've only heard of him through C.S. Lewis and Neil Gaiman! If I weren't a reader, I wouldn't have come across these amazing writers and their amazing stories.
****
Apart from that, I have unpacked my boxes of books (and was just happy to see most of them again) and have begun reading"The Nibelungenlied: Prose Translation (Penguin Classics)
," which is another classic — or pehaps an antiquated story orginally in poetic form, written in 1200 A.D. — from which "The Lord of the Rings" was partially based. This interest was triggered by my really liking that not-so-old film in which Rob Pattinson starred in as a supporting actor — "Ring of the Nibelungs," (which is just one of its many titles) — and this was shown in Cambodia like a dozen of times. I never grew tired of it.
****
Then last night, I found myself a copy of Neil Gaiman's new book, "Fragile Things" at SM Clark (yes, I have been to nearly all the SMs in the country now), and I couldn't part peacefully with it so I had my mum buy it for me (since I haven't enough with me after paying PhilHealth's renewal fee). And because I'm reading two other books at present, I'm saving this one for my transit hours at the airport.
****
I've got a nasty cough and I think I won't be able to worship lead or Emcee this Sunday for the Church's Anniversary. Unless by some Divine intervention this cough mysteriously disappears tonight (or early tomorrow morning) and I could sing and spend my vocals for the rest of the weekend.
Salabat is currently a staple.
****
I am gradually getting real crazy about clothes (because "fashion is an artform," quoting Camilla Belle), and I found this really cool website of a teenager, who turns out to be Karl Lagerfeld's daughter (designer for Chanel I think — dunno how true the daughter part is). She and her mom are awesome; sharing their love for clothes and shoes online. I find some of their fashion tastes closer to my own, so check it out:
****
I saw a couple of cats mating earlier this afternoon. What a weird sight that was! And in broad daylight!