Long Walks & Aesthetic Experiences
Today is an exceptionally unusal day.
To start with, ever since my trip to Singapore, I came back to Phnom Penh in a much better mood. I have greater patience for children; my disposition towards them is one with much gentleness and willingness to be a better teacher for them, and my passion for teaching has been renewed, as I seek new ways to better my teaching style.
With that said, today I felt motivated to improve myself.
While my students were doing a portrait of their teacher, I, too, undertook the task of drawing her portrait and found that my drawing is much life-like. That's quite a first for me, with regards to life-like on-the-spot sketching. The teacher liked the drawing so much, that she requested to have the drawing in her keeping, to which I agreed only after I have had the drawing scanned.
I then spent some quality time at the Chocolate Shop after school, enjoying a hot pot of English Breakfast tea and a slice of moist brownie while reading a book on Art pedagogy (I know, heavy stuff which required all my concentration).
The next undertaking is what surprised me most — since I felt like walking, I decided to walk all the way from the Chocolate Shop to our apartment (refer to map below)!!!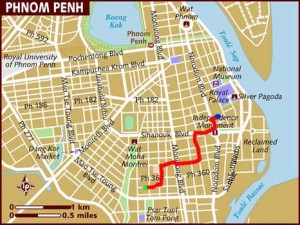 The blue dot is where I began my walk (iPod as my company) and the green dot is my destination. I can't believe I could walk that far (while undergoing some aesthetic experiences along the way)!! This is truly amazing!!! I am very surprised! I now realize that it isn't really that far when I'm not in a hurry to get where I want to go, and if I'm simply enjoying the walk and the sights I see.
I think I have my iPod to thank for that (and God too for keeping me company and safe as well). So, looks like I've found a great weekly exercise (and a private way to meditate/do some thinking) especially when I feel like I'm having a rough day in school.
I just feel great right now, although sore on the feet. But I think this is nothing compared to all that walking I did in Singapore. That was really bloody!
If all goes well in February, I'd really like to pursue Capoeira. So here's to crossing fingers and hoping for the best. *crossing fingers*
Below is my iPod playlist, which kept me company during my very long walk. I just love my iPod!
Ingrid Michaelson — Be OK
(Fork and Knife) — Brand New
Hot Hot Heat — 5 Times Out of 100
The Owls — All Those in Favor
The National — Apartment Story
Aloha — Body Buzz
Little Man Tate — Boy in the Anorak
Rilo Kiley — Breakin' Up
Los Campesinos! — C is the Heavenly Option
Apostle of Hustle — Chances Are
Puressence — Drop Down to Earth
The Runners — Get in Line