From the South (Davao) to the North (La Union)
I'd have to say, my 2009 and 2010 has gone exceptionally well — adventure-wise!
As I write this, I am in one of the nicest hotels in La Union — the Sea and Sky Hotel — and our room has a balcony which overlooks the China Sea, with the crescent moon hanging above it's reflection on dark, moving waters. It's really lovely here. I'm so glad I'm making good decisions lately, haha!
One of the things I love about my family is their sponteneity! I'm glad I inherited that from them because that's one of the things that certainly make my life more interesting (either conveniently or inconveniently).
Well, just a few days ago, right after our Davao visit for Sweet and Choog's wedding, my dad suggested we go to La Union as a family thing (especially since Kai — who was supposed to take this trip with me — had cancelled our year-long planned, supposedly-monumental trip due to conflicts in her work schedule.  Haha! Love you Kai! Maybe we'll do it next year). Also, we took advantage of Jinjie's one school-day off which only gave our spontaneous trip even more ground.
I can't say this is a  carefully-planned trip at all. I mean, I  just began packing my stuff this morning and made room reservations over the phone too. We were all unprepared for this trip, but by 2 p.m., we left the house and was met by a long line of traffic and some rains along the road, but overall it was a very smooth and conflict-free road trip.
Much has changed in La Union! I can barely recognize the place — I only recognized the grotto in Bauang, the Plaza in San Fernando, and of course, Sea and Sky Hotel, which was already around before we moved out of the province. It's already dark when we arrived, so I hope to see more of La Union in the day time.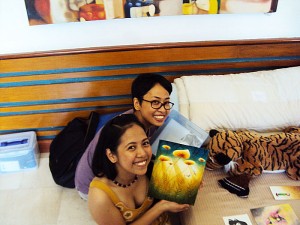 However, tomorrow's agenda is something I have long looked forward to (wish you were here, Kai!). I am visiting a very old elementary classmate and friend of mine, May Ann Licudine — artist extraordinaire!!! I'm so excited! I wish I painted her a little card, or did some hand-made thingamagig or something,… but I didn't. Talk about laziness! But I'd just be content to talk to her, take photos with her, have lunch with her, and see her works up close. Oh my! Beginning today, life will change for me, haha!
Afterwards, we'll drive further north and spend the night in…. VIGAN!!!! 🙂 This is my favorite place in the  Philippines — tourism-wise.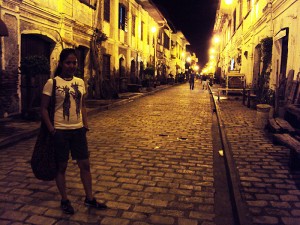 I'm stoked! I'm oh-so very stoked!
This trip back home is just amazing! I've gone North and South. Maybe next time I can visit the Visayas region and complete my Philippine-wide adventure! (Hmm… maybe that Bacolod trip is a possibility *wink wink*) 😉