VJJosonDotCom!!!!
At last! Finally! Huzzah!! I figured out this CSS coding business and now — after all these sleepless nights and back-breaking toil day to day — I can finally present you….
VJJoson.Com (my online art portfolio)!!!!
******
******
Not very long ago I began a project inspired by two of my very artistic friends. 😉 Now because one of them was having his birthday, I took it as a challenge to write and draw for him an illustrated story book. I not only did this as a birthday present for him, but as a motivation for myself to draw and paint daily (just as May Ann strongly suggested that I should do). This is why I opted for a book project over that simple painting he originally asked from me. You can see samples of these illustrations at my website.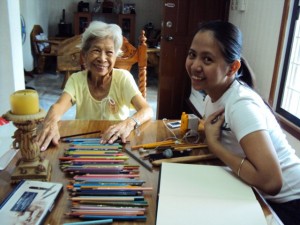 We visited my grandma about a week ago and she was very pleased to see us — especially me, whom she haven't seen in exactly a year! So when I began working on my project, she was shocked to see all my color pencils laid out on the table! She couldn't believe her eyes at the number of colors I had. She even counted them — I had 103, she says. She sat beside me and watched me while I worked, fascinated by the colorful pencils which reminded her of my grandpa (who passed away 2 years ago), who was also an artist and had a similar collection in his younger days.
Now my dad thought it a great idea to document our 'artistic journey' so here's a video he made of me and my sister at our art-making modes (among other things).
Enjoy!