2 New Paintings
Over the weekend I have painted two cards for my relatives in Oregon. The one below is a thank you card for my Aunt and Uncle who sent me and brought me (respectively) a book on color pencil techniques, more Prismacolor color pencils, watercolor pencils, art markers, and a Wacom tablet (among many other things). I am just so happy about the gifts I received that I found more energy and inspiration to paint late into the evening.
So below is a scene from a Norwegian fairy tale called, East of the Sun, West of the Moon wherein the bride lit a candle to see her husband's face while he was sleeping, in spite of his very precise orders against it. The scene is also very similar to the story of Psyche and Cupid in Greek/Roman mythology.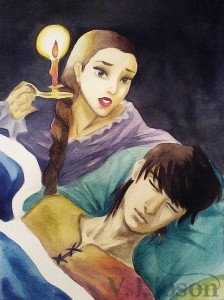 To See His Face… . Watercolor. Sept. 2010.
East of the Sun, West of the Moon — Billie Holiday
The other painting is a birthday card for my Lola. Since she hasn't received it yet, I am putting it up here as a private post. I will make it available to the public as soon as she receives it.