So here's the thing… [updated with pictures]
…I just made a very big decision tonight…
I'm gonna go VEGAN….
…for a day! 😀 haha!
I do however intend to live healthily again (whilst helping the environment and the animals that PETA says have feelings and personalities. I'm still trying to get my mind round to it). And I guess there's this issue about my weight — which is fine — except, I want to maintain my BMI, which can only be accomplished through healthy living and eating.
In fact, my day's menu for tomorrow is already set:
Breakfast: Soy milk and cereals.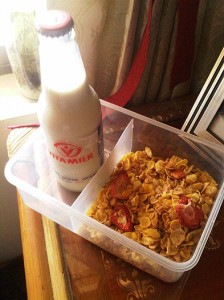 Lunch: Tofu Sinigang (No meat! Good luck to me on this).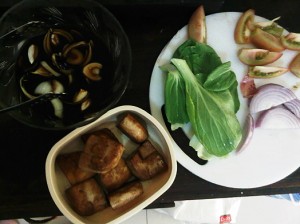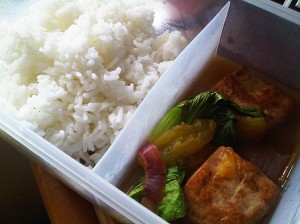 Snack: an apple, tomato and lettuce sandwich, and tea perhaps?
I'm skipping this because I'm still very full from lunch.
Dinner: Vegetarian fried rice. Maybe.
There's plenty of leftovers so I'll make this on another day.
I also read that a Vegan diet is the best weight-loss program.
If I survive this and actually like it, I'll push forth for Day 2 vegan diet.  If I still liked it, I'll go for an every-other-day vegan menu until I can finally give up chicken and dairy products for good (as for pork, beef, fish and sea-foods, it's easy for me to give them up altogether since I don't really like them anyway). I just need to take it slow and get my
body used to the transition first. 😀
Well, hope it all goes well. Here's to my new lifestyle. Cheers!