Painting practice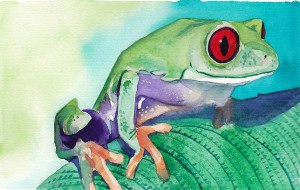 Every weekend, I teach painting to a student from school privately. She is improving admirably and I am very proud of her.
It's really hard for me to teach painting because I'm mostly self-taught so I don't really know how to teach it since it's mostly an experiential learning for me rather than something I can easily pass on to a student.
So what I did was to teach her a technique and together we paint the same thing so that as I go along painting, if there's any problem or challenge I face as I paint, I can then relay it and show her a solution in case she is faced with same dilemma in hers. So it's more of a "watch and learn" lesson each day, really, which works well for me.
The watercolor paintings you see are work I did with her, and I must say this is so far the only motivation I get for painting these days. But it's great practice!
p.s.
I've got a scanner now (woot!) so I can now post better quality photos (scans) of my work! Yay!