New Years' Eve
For the first time I spent New Years' Eve alone. And I didn't mind it… that much.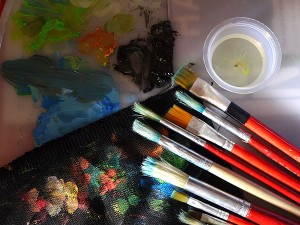 In fact, I like how it got me working on my art — I spent the entire day drawing with compact charcoals and copying my favorite artist, Michelangelo's sketches because I think his life drawings are immensely interesting — like for instance, his muscular women in contrapposto. Then I primed my cousin's abandoned canvases (or painted gesso over her unwanted paintings) and then started painting over one them and produced two unfinished oil paintings — just so I get the hang of it (of oil painting, that is). So far, I am really struggling with it. But it's so versatile and I love it!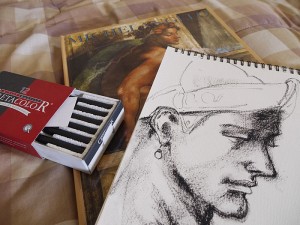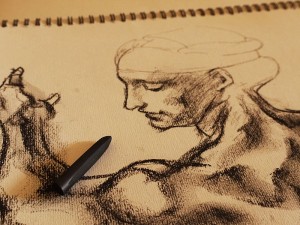 Detail of my sketch of the Libyan Sibyl by Michelangelo. More drawings at http://vjjoson.tumblr.com
However, I felt a little heady after inhaling too much turpentine — which filled my room after some time — so I ended up feeling light-headed and napped for a couple of hours in the afternoon. I think the turpentine I have, a cheap sort I got from the Russian Market, is pretty toxic. But what else is there? It's not like Cambodia boasts of being fully-equipped with Art supply stores. I just have to make do with what's available.
******
5 minutes before midnight (or New Year), I took my camera out and headed for the rooftop and awaited the fireworks patiently. I knew there will be some because I read the Phnom Penh Post. When it finally came, what joy! I took plenty of shots — most of them were terrible (unfortunately), but what an enriching photographic learning experience that was! So I really had fun, even on my own on New Year.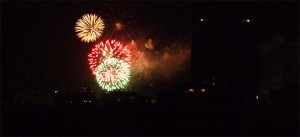 Shot taken after fireworks display. PP was smoky!
Hello 2012!! So far, you are so good!