A Very Artful Week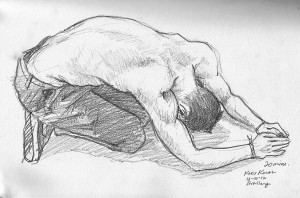 The previous evening, my friend and I went to the Drink and Draw at ARTillery (located on St. 240 1/2) and had the pleasure of sketching/drawing Spoken Word artist (or poet) Khiev Kosal, who posed for us for the evening.
This was my first Drink and Draw and it was such a wonderful creative release. I thoroughly enjoyed the experience and the opportunity to draw a rather well-built model *wink wink*. I would definitely come back when time permits me. More of my drawings from the Drink and Draw at Tumblr.
Apart from that, I am currently crazy over playdough. The children love it, and so do I. It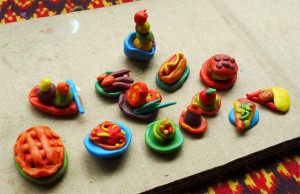 has been enormous fun molding shapes of food out of them, and I am partially enthused that the children shares my amusement for creating miniature foodies.
Also, early this week the 9th Graders and I, along with a couple other teachers from school, went out on a field trip — to see the 40 Masks – 40 Artists exhibit and silent auction at the Plantation Hotel. The place is stunning and peaceful! The masks were remarkably well done. I particularly like the ceramic mosaic mask, which you cannot find among those hung on the wall but is displayed separately right by the restaurant area.