Fair Winds and Blue Skies
Last Saturday, while my family and I were at SM Clark to attend my sister's cosplay, my dad received a call from my childhood friend, Sarah. She said her dad's plane had crashed and she has not heard anything from him/about the crash still.
As soon as we got home, we have been glued to news reports on television and online.
I kept myself updated on the tweets of Sec. Mar Roxas, Ayee Macaraig, Rappler and ABS-CBN, and whenever new developments came in, I am one to immediately update my family of it. I literally spent the past five days plugged-in to Twitter and Facebook. The latter was flooded with posts about Capt. Jessup Bahinting, about their hopes for his safe homecoming, while some were already posting short eulogies of how great a man Mr. Bahinting is.
What makes this plane crash such a big deal — apart from it happening to someone we personally know, love, and admire — is that the plane was carrying the Department of Interior and Local Government (DILG) Secretary, Sec. Jess Robredo — one of the finest public servants this country has ever seen.
The world seemed to have stood still. At least it did for my family. We were anxious for news nearly every hour. We wanted to hear that Mr. Bahinting, Sec. Robredo and Chand survived.
But that was not to be.
Yesterday, Sec. Robredo's body was recovered from the wreckage.

Today, Mr. Bahinting's was discovered and positively identified.

Chand's body remain missing, however.

[As of 8/23 a body was recovered and confirmed to be Chand's.]
It is an immensely 'sombre' day (as my friend put it) for everyone.
*&*&*&*&*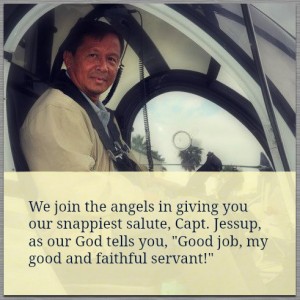 I knew Mr. Bahinting as a child. My father was assistant pastor to him and so we, as a family, were often at their house back in Cagayan de Oro, where I became close friends with his youngest daughter, Sarah. From my recollections, every time we visit them in their house, I always — pretty much always — see Mr. Bahinting hovering over his metallic blue VW Brazilia, with his 'mechanic tools' on the ground nearby. My dad would join him there  in the shed where the Brazilia would be parked. When my family received our white VW Brazilia, he would be tuning it up too (perhaps to show my dad the ropes in automobile maintenance).
My family kept in touch with them throughout the years after they moved to Cebu.
&*&*&*&
As i fly back to Cambodia to resume my 'duties' there, I shall grieve with the Bahintings, the Robredos and the Chands… and the rest of the world who cared dearly about them.
Here is my dad's reminiscences of notable aviator and pastor, Capt. Jessup Bahinting — the Hero.