More Visual Tales…
Just took my Final Exam earlier and it was a bit nerve-racking! We only had 30 minutes to accomplish a 20-items long True or False exam, which honestly is a really tricky bugger! Not only have I misread a couple of lines there, which I know for sure I got wrong, but I had to time my own self for 15 minutes just to keep track of the time before the Exam itself automatically shuts down when it reaches the 30-minute mark.
Anyway, all that's done away with and I can only wait in anticipation on how 'badly' I did on the exam. I am figuratively face-palming myself. …But I do hope I pass.
Well then, moving on to the lighter side of things…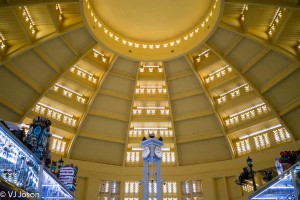 My friends and I went on a photowalk about a couple of weekends ago, and we visited the P'sar Thmey (Central Market) to appreciate its architecture and do a bit of photography (and shopping as well).
Upon Kenneth's suggestion, we went to the foodie side of the Central Market and found ourselves enthralled with all the strange sights and smells, all brimming in vibrant colors and energy. And so a major photography-ing ensued.
Then we headed off to the then Beoung Kak Lake area, which is now a landfill with nothing but a desert-like view with the noon heat bearing down upon us unforgivably.
Now for the past month or so, Phnom Penh had been experiencing frequent power cuts. My area is the most affected — I go to work, and there's no power. I come back home and there's no power. So I basically had to endure a whole day's worth of sweating in the heat and sore arms from fanning myself to death. (Exaggeration, har har).
So one day, I went and got myself some Halo-Halo! Yum and yay summer!
Well, the past couple of days or so we've been experiencing continuous power supply which is really, really fantastic! My workplace also had a powerful generator recently installed, which can support fully air conditioned rooms so that has been immensely wonderful all throughout!
Not so long ago, I also had the pleasure of photographing a Yellow-Vented Bulbul plucking a palm fruit with its beak. I have been observing this 'habit' of their species every morning, and so one day I set up my camera and just waited for them. I am blessed with this precious moment captured on film (or the digital version of it, that is).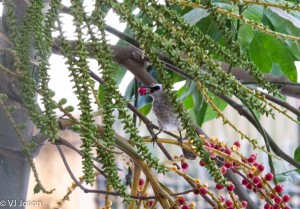 When I got home later that day, I finally convinced myself to try and photograph the full moon. Here is my first successful attempt. Perhaps with a more powerful zoom (and a decent tripod) I can take a sharper photo next time.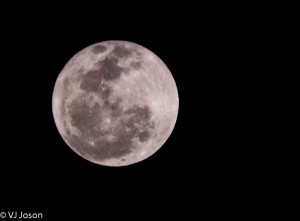 So, when will I start painting again? Good question.