It Must Be the Heat
As much as I miss Kendo, I have not been attending practice as of late. Perhaps it's the heat. I've been so sluggish and just plain disinterested in going out, getting sunburned, or drenching and dripping in perspiration. It's really too hot outside here. I remember last year's summer practice when I had the most injuries from Kendo and felt the many instances I could have collapsed from the heat or had thrown up from the very rigid training made even more unbearable by the summer's humidity. Those were the times I felt like giving up Kendo completely. Thankfully I haven't, so I just carry on.
Well today I've decided to go to the dojo but not necessarily participate in the practice (let's just say I'm Vitamin A deficient). I'm glad I made a good decision today to go because it just so happens that our sensei's photographer friend was there to take some photos of the Japanese art. He has been doing photography for 30 years — a passion fueled by his constant travelling around the world brought about by his completely-unrelated-to-photography profession in textiles.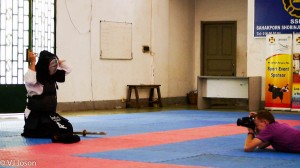 So there he was just lurking about, sometimes just inches away from keiko-ing people, and at times down on the floor — planking-like or on his back — shooting from a low angle. It was such fun watching him do his thing.
Meanwhile, a couple of boys and their mother watches my colleagues in action from the gymnasium' doorway. At first the older boy seemed to be annoying his little brother needlessly, and the former was amusingly cute in his reactions. But later on the former shared his bag of goodies/snack with his younger sibling and together they watched my keiko-ing colleagues in silence.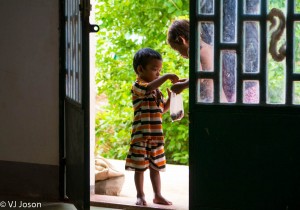 Later in the afternoon, after a short nap which left me with a slight headache, I headed off to Chanmi's house for dinner. She cooked seasoned fried chicken and prepared mango chutney, garden fresh salad and some… er… those round, flat, Indian bread… (Chapati? No. I don't know what they're called) but It was a very interesting combination of food. Let's just say it all didn't quite go down well for me smoothly. But it wasn't so bad. Not bad at all.
Together we went to see our colleague' choir group, Bella Voce, which held their Spring performance at the Hotel Intercon early this evening. We really enjoyed their line-up of songs, although I must say that the tenors at the back seem to overpower all the other voices and there were moments when the song they were singing was a mess in my ears (and only managed to make my headache worse). But it was only in some parts that the song became a wreck (when the tenors felt the need to sing out) but the other songs were delivered pretty well. All in all it was a wonderful evening and I really liked the encore performance which featured a duet between the pianist and the violinist playing "Hava Nagila," which was then accompanied by the choir (or is it the other way around?).
Once again, I am being 'teased' –or more of 'enticed'– to join the choir. I hope the matter of me joining does not come up again anytime soon. It's no longer funny when people's tone starts getting serious). Rather, it's scary! Har. Har. The last time I was in a choir was in college — and my goodness, it was tough!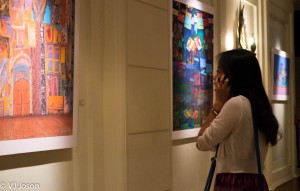 It was also really great to hang out with Chanmi, whom I've only hung out with once or twice in all the time I've seen her, which began like —what?– four years ago? Wow! Either I am that reclusive or we both are. Maybe it's just me. Well, it is really, really great to finally get to know her better. She is one very interesting lady.
For now, I wish the day times weren't so friggin' hot. I also wish I wasn't Vitamin A-deficient on Kendo days.