Touched
Indeed, I am very deeply touched today. Touched by this simple gesture from a colleague in kendo — a pretty remarkable friend — who surprisingly brought me a souvenir from Hong Kong!  Now it's not just any random souvenir you can think of, it's actually a pretty great present from someone who seems to know exactly what it is I like — and what I like is a nice leather strap for my camera — and that's precisely what I got! How awesome is that!? What made it even more awesome is the color choice which just matched my taste perfectly!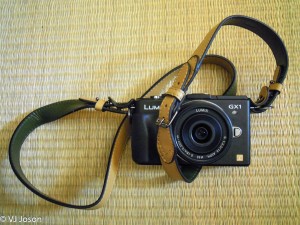 I am just so overjoyed by this amazing present that I think I did a bit of a  weird gallop and a trot while I was saying my heart-felt thanks and goodbyes to him earlier. Well, it's now a fact: there's no saving me from embarrassing myself over and over again. Oh well, I may as well just be transparent about how I feel: I. AM. SO. HAPPY!!!
… For the most part, it is because this is something I could never in a million years expect to receive from anyone, especially from this particular person of all people! Which is why this very surprising and very random act of thoughtfulness had really taken me aback! But it is a very, very welcome surprise, and I am still moved at the very thought of it.
Now, now, heart. Don't get carried away.
Well, well, it really is an early Christmas for me — not only did I recently receive a box of quality chalk pastels, I was also invited to a special home-cooked dinner date and now I was given a beautiful camera strap!
Thank you, Santa! Thank you, Almighty Father!