The Faithful Customer
Way back when I had not been able to access this blog of mine for a couple of months due to Error 118, I had many times contemplated changing my internet service provider. But it was hard to find a good, unlimited, high-speed internet connection for less than the amount I was paying (if not nonexistent). Well, eventually they were able to fix this Error 118 problem and I was very happy with them after that.
Well not so long ago, the manager of this ISP happen to meet me when they were just about to close the office and I came in at the last minute to pay the bill. He discovered that I had been a customer of theirs for 3 straight years now. He then excitedly tells me that I am now eligible to be their VIP customer. Ooh lala! For a couple of days that has been in the works, and today I received a call from him telling me to head to their office, to which I did, and found to my greatest surprise that my internet modem has been upgraded to a portable WiFi, which can connect three computers/mobile phones at the same time to the internet!
What a thrill! It is slim and pocketable …and I can take it anywhere!!! It is just perfect! Thank you, Excell!!!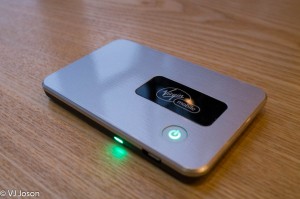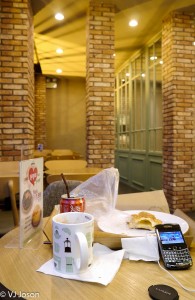 It was nice and cool and quiet at Tous Les Jours early this evening (where I sweetly killed time while waiting for some Art class photos to be printed at a photo shop nearby) and I really liked the ambiance of the place. I like how the columns are of bricks, and the windows are large and wide letting plenty of light in in the daytime; the tables wooden, and the lights bright enough for reading. I really like their Bavarian donuts too. It's the only thing I keep going back there for. Mostly because it has a similar taste to Dunkin' Donuts' Bavarian donuts. I do miss Dunkin' Donuts. A lot.
Well, Tous Les Jours is basically THE place where I tested out my new little gadget courtesy of Excell — the MiFi (by Virgin Mobile) — with which I was able to watch Youtube videos continuously. I am really enjoying the perks. Or rather, singularly, the 'perk.'
Here's to another early Christmas for me! Cheers!
@@@@@@
Last Monday, I volunteered to help in an After-School class which I was quite keen to learn about — Fruit Art!! It's basically wood carving — on fruits! It really is quite fun (and a good challenge) to design fruits (and/or vegetables) — but the challenge is mostly on keeping an eye on the students holding one dangerously sharp object — the carving knife! There were moments my heart would skip a beat whenever students would suddenly jerk and make unnecessarily quick movements. Please don't accidentally stab someone! would be my weekly mantra for that class alone. So far, no one's been seriously hurt nor slain in the process of this dangerous journey to fruit art perfection.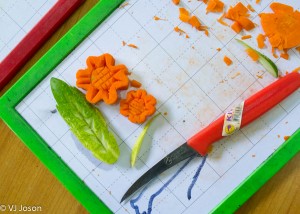 If you think carving a flower on a piece of carrot is easy, you are dead wrong! It was pretty hard and I struggled a bit with it in my first attempts! But once you get the knack of it it gets easier. I'm excited to see what else we'll be learning in the coming weeks …and to see who else will be chowing down their art.
 @@@@@
And here you have my latest drawings using once again my recently-bought and now-depleted Uni-Ball Eye Micro pen. Yes, my inspirations this time are from old WW2 photographs.