Sight-Seeing on Foot
My friends and I challenged ourselves yesterday to ditch the motorbikes and wander around the Riverside on foot! It was sure to be a hot, sweaty, and grueling exercise of sorts, so to prepare ourselves for such a feat we first had lunch together in one of the restaurants on the Riverside.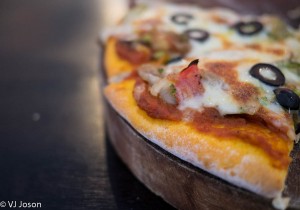 We ordered Fried Bananas, which was too oily for me and rather soggy (I only managed to eat one), and Greek Pizza, which was absolutely superb! We all had a couple of slices each which filled our bellies and had two extra slices left, which we had wrapped up for 'take away'. Just when I thought the restaurant redeemed themselves from the disappointing Fried Bananas with their excellent Greek Pizza, I was quite startled and dismayed while eating my last slice to find a cockroach on the table which boldly dashed for my plate and hid underneath it! I did let out a girly scream although I am not at all scared of cockroaches, because — my goodness! — for a restaurant that serves really good pizza, their place is a dump! In fact, I now recall that I had to wipe the plates and utensils clean with a tissue first because they had some dirt on them. Tsk tsk! This is why I am withholding the name of the restaurant:
Pizza — outstanding!
Cleanliness — Pffft!
So from there, we walked towards the ruins of old French Colonial Villa and then headed off for the Royal Palace, where we pretty much spent the entire time taking photographs of ourselves (well, me taking photographs of my companions) and laughing at ourselves uncontrollably.
About two or so hours later, my friends and I headed off for the Vietnam-Cambodia Friendship Monument, or the park, which was still somewhat bare of people except for a group of football players and several beggars and other pedestrians/wanderers like ourselves. We sat on one of the benches to rest — within view of the footballers. I was told that they don't always play for fun, these footballers. There's usually some betting going on between teams. Meanwhile, a child flies his black kite, which then crashed right where the teams were playing. The sky was cloudy, it was humid, but at least there was a good steady breeze blowing nicely. No words were spoken among any of us. My friends and I were clearly tired at this point.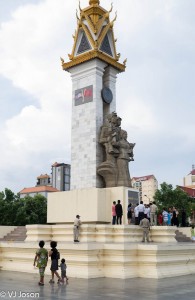 Then from there our feet took us to the Independence Monument. More picture-taking ensued of course, and then we crossed Sihanouk Blvd. and headed towards the EU building, where their artsy wall was something I've long been wanting to photograph. Afterwards, we crossed Norodom Blvd. to photograph my friends in front of the Singapore Embassy — for fun.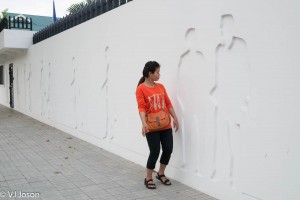 This being a really long day of walking, I treated my very wonderful friends for ice cream at the Blue Pumpkin, a couple of blocks walk or so away from the embassy. It was nice to be able to sit on cushioned seats with cool air-conditioning and a cold, sweet snack to relax ourselves with. When we were all finally rested, we once again took to our feet and walked the length of St. 240 back to the parking lot where the motorbikes were parked. But my friends felt like walking some more along the Riverside, and so we went there, but I told my friends that I could no longer walk the length of the Riverside (since my glutes was by now sore from the long walk first sustained from Thursday's lunges — er, I've begun gym training). So we sat on the ledge(/s?) of the Riverside and just enjoyed the sights, sounds, and breeze of the nightfall.
We also found out that King Sihamoni apparently went out not long before we arrived, which was why the Sisowath Quay was blocked from incoming vehicles (and why there was  a bumper-to-bumper traffic from street to street everywhere!).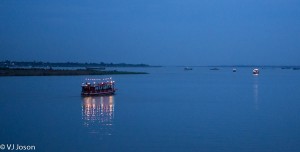 This day was also a great chance for me to test out my newly-acquired (and immensely favored) 20mm Panasonic-Leica lens. FINALLY!! I have long been coveting this lens and at long, long last, I have my very own! I got it second-hand from the same person who sold me the 45-200mm telephoto zoom lens from Panasonic. The aforementioned man sold the 20mm to me for really cheap! Zeikos UV filter included! I love him (in a buyer-seller kind of way).
So far, I am loving this lens! It focuses fast, my pictures are sharp, it's great with low lighting, and it's flat and light-weight and I can easily just slip it in my small-ish sling bag! My only concern is the whirring sound it makes when focusing. I wonder if it's normal… ?
Here's a map of the path we took today on foot. We started near Wat Ounalom and ended our walk right by Tonle Sap (Tonle River).