Projects, Phones, and Prints
It's time to post this year's art projects yet again. Some of it are recycled from the previous years, but since it's the new school year and new/transitioned students in each grade level, well, it's all good and fun!
Below is one of my first two Instagram pictures (yes, I finally got myself an Android phone and am loving it, and yes, I finally joined the Instagram bandwagon through the persistent prodding of a close friend). I shot it after accidentally dropping my glass full of syrup for the Italian soda I was fixing for myself. At first glance, it does indeed look like a terrible, terrible accident involving some nasty blood loss. Gruesome, eh? Either that, or the lime was brutally murdered.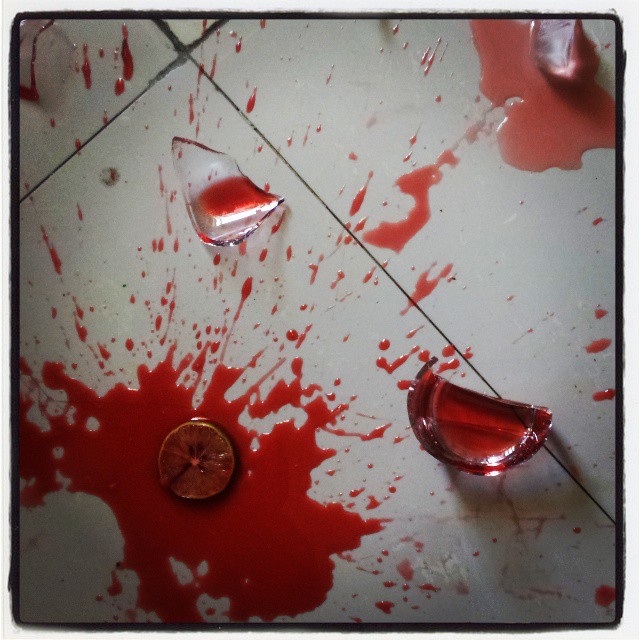 Just recently I got myself immensely fascinated by Ukiyo-e (Japanese woodblock prints). We studied about these back in college in my Japanese Art class, but my knowledge of the printmaking process is close to nil and zilch. So after watching a video demonstration online on the traditional Japanese way of doing ukiyo-e, I now have a huge respect and admiration for printmakers! This particular art practice is not at all easy, and my mind is just blown by the meticulous process involved in making those beautiful prints.
What brought this interest about had plenty to do with me trying to find a nice wallpaper for my Android phone. I wanted it to be classy and artistic at the same time, and with my fascination for swordsmanship, the perfect wallpaper (I thought ) is a Japanese print of a samurai. Browsing through Google images, I happened upon two printmakers I now most admire: Tsukioka Yoshitoshi and Natori Shunsen. Their work are so beautiful and timeless and feels so very modern, while at the same time retaining many aspects of the traditional ukiyo-e style. These two are considered to be among the last of the ukiyo-e artists. I was thrilled to find their work and have now become an instant fan!
So below is now my current phone wallpaper, while the other has become — for the time being — my Facebook profile picture.
My phone's wallpaper.