Life in Miniature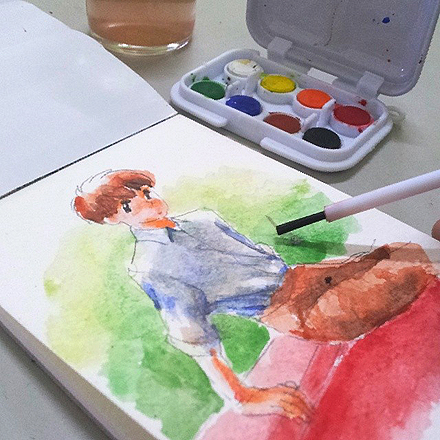 Sometime late last year I was given an assortment of 'stuff' by our principal. I was left to figure out what to do with them. There was a packet of chopsticks (all very useful, of course), a plastic envelope of dinosaur paraphernalia (i.e. drawing pad, ruler, stickers, etc. — not sure how to distribute those) and an unopened watercolor pad and watercolor palette, which were too small to be of any use to my students. There were only 15 sheets in the pad, the palette paint were like tiny candies, and the brush's bristles were as unpleasant as hard toothbrush on the gums.
However, it was so lethally cute that I couldn't help myself but to help myself with it. It has been inside my bag for many months now, nestled within the inner pockets of my satchel — alas — perpetually ignored.
But then the day finally came when I had decided, while waiting for my next class to arrive, to give it a little test. I drew a simple figure on the pad with a mechanical pencil and with the rinsed, hard-bristled brush I started filling the drawing with colors using the minuscule tablets of compact paint inside the palette.
I was blown away!
I love it!
It is cute. It is compact. It is a terrific travel watercolor kit that doesn't weigh heavy on the bag!
I want to keep it.
Maybe I will.
Hmmm… no one's going to miss it, right? *wink wink*
Its original box cover indicates that the set is a 'Pocket Art,' which is a concept that started among the Impressionists who used these 'Artist's Trading Cards' as currency for exchanging artworks. Sounds to me like the very concept of an ACEO today.
However, as much as I love this toy-of-a-watercolor set, I still covet the Winsor & Newton Cotman Water Colour Field Box set of 12
, which to me is the ultimate travel watercolor kit. 'Wish I could get my hands on those. They don't come cheap, you see. 'Wishing someone would have the biggest and kindest of hearts to get it for me. *sigh* I need a genie.
Now during my lunch break, I noticed one of my 'challenging' students standing right outside ICT class by the balcony, back against the wall, and eyes intent on the children playing downstairs. What on earth was he doing there?  A part of me wanted to make my way down there and find out what's going on, but then another part of me saw an interesting image of a boy, who seemingly made the decision to stay out there and watch the children play. His body language suggested that he didn't want to be noticed for staying up there. He kept looking over his shoulder towards the doorway, moving further down the balcony to avoid detection. When his classmates finally came out and the TA saw him, only then did he join the group.
Either he was sent out of class or he decided to skip class. Whichever reason it was for his presence there, it made for a very interesting subject for my quick sketch.