A Night of Manouche Goodness
Last evening I spent a splendid time listening to jazz manouche (or French jazz, or gypsy jazz) with four of the most wonderful friends I made here in the Kingdom. What we all had in common was our love for jazz, art,… and laughter.
What truly astonished me was that I received a somewhat V.I.P. pass when I was asked if I had a booking, to which I apparently did. I was handed three tickets which, when presented at the bar, allows us one  complimentary drink on the house. This certainly impressed my friends. How well−connected am I, they said. I grin with quiet satisfaction and stupefaction at the same time.
The venue was remarkably conducive to a jazzy atmosphere, as noted by my companions. They were astounded that such a place exists here in Phnom Penh. They said they felt as if they were back at home, listening to live band. But of course, it was a different sort of jazz they heard last night. Only two of us in that group were familiar with the line-up performed. The band played a wonderful set of Django Reinhardt's best loved pieces. It was such a pleasurable experience to finally hear Django's music played live and not just through my blaring earphones.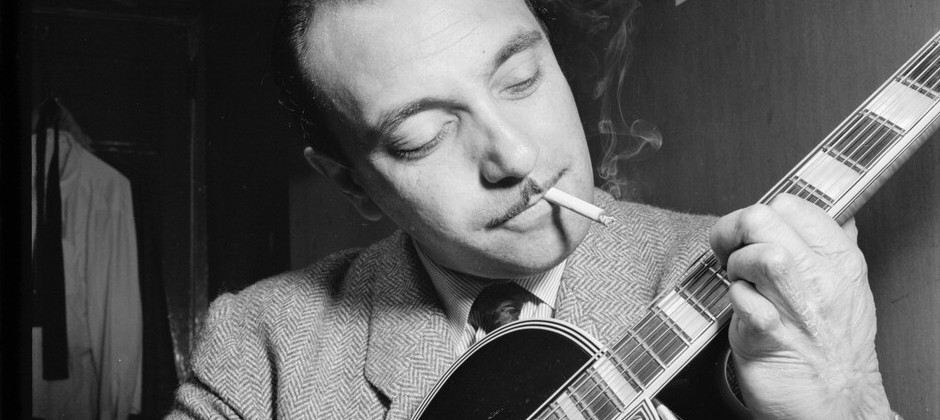 Well, what made the night even more amazing was discovering that this one friend of mine who was familiar with Django happened to be a big Django fan. I just couldn't contain my surprise and joy that for the first time in my life I finally met someone who loves Django Reinhardt too. He tells me that he first discovered Django while looking for an 'oldie' piece for a project he was working on back in college and found himself mesmerized to Django's "Manoir de mes Reves."
As for me, my first Django encounter was "Coucou" through an album by Waldeck shared with me by a friend in college. Upon hearing the song once, I just fell in love with it and made it my theme song for a long while. It's such a happy song that it makes me feel like I'm walking through the day with a smile on my face while birds chirp happily in the trees, the skies are ever bluer, puffy white clouds now and then shading me for the sunshine, breeze blowing through my hair and flowers emitting the sweetest of fragrance. "Coucou" was (and remains) my pick−me−up song.
Through this song I was introduced to the world of Django Reinhardt's music and I loved everything I heard by him. I became an instant fan!

But the evening was not made great through the impressive performance of the band alone. Rather, it was the company I was with which made my evening quite enjoyable. I realized at that very moment, while listening to the funny banters between my friends − who had actually met for the first time that evening − that I do have a healthy set of male and female friends; that I am normal. I like happy people. I like to be surrounded by people who enjoys laughter, best of all if they, too, enjoy good music, art and good food. They do not particularly see the world in rose−colored glasses, but they do prefer to see the bright side of things and yet have enough common sense, depth, and both realism and idealism to keep the scales of life balanced, interesting, and enjoyable.
Or something like that.
Now we're planning to meet up at my Django−fan friend's place over the weekend for Mexican food. He'll be cooking, another will bring tequila while I bring the chips. The circle of friendship just grew bigger.