24-Hour Comics Day. Again.
Once I again, I joined the 24-Hour Comics Day, which only ran for 9 hours this year due to the period of mourning for King Sihanouk, beloved king of Cambodia and father of the present king, King Sihamoni.
To fuel my gradually regained passion for drawing again (and since this event only happens once a year),  I've decided to participate for the second time but only to produce one page instead of the enviable 24 comic pages.
A couple of years back, when I first participated in this event, I produced 11 pages of comics within the 24-hour period. (Clicking the link will take you to my post about it from 2 years ago).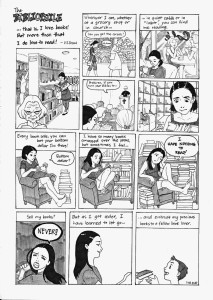 So for this time, I had to rack my brains for some idea or story that can fit in just 1 page. I did not come up with the idea above right away. In fact, I first begun playing around with the idea of death and the afterlife, but somehow I knew it wouldn't work and would be too complicated to try and fit within the 1-page comic goal. So I went through some of John Weeks' awesome multi-cultural comic book collection and found one I ended up finishing in one sitting — Sarnath Banerjee's "Harappa Files," which I promise you is hilarious and very insightful too! I'd love to have my own copy of that someday!
After reading it through, I was so inspired to write something very close to my heart instead. Something many close friends and family all know about me — my love for books!
-@-@-@-@-
One of the participants there brought her 3 children with her. They were very playful and after her little boy somehow nearly managed to 'wreck' one of the exhibit displays, the three children were sort of 'grounded' and made to sit still around the table where everyone else was working. Although I sense their fascination with me at work, I can also sense their boredom. The little boy even fell asleep on his chair.
I took a sheet of blank paper and started drawing cartoons in front of the two girls and then asked them to color it. Later, I find them actually copying my drawing, doing their best impressions of my cartoons, and coloring it. I was thrilled!